This post may contain affiliate links. Read my full disclosure here
When you think of St. Patrick's Day, you often think ALCOHOL, parades, and corned beef. While there is definitely a lot more to the day than just those iconic traditions, it can be a budget busting holiday.
Click here to read about the traditions, facts and myths of St. Patrick's Day.
Corned beef is expensive! The cheapest I've found is $7 per pound. Personally, that is just too rich for this savvy grocery shopper.
Add in festive decorations, extra green clothing and wacky outfits to avoid being pinched or to show off your Irish pride and next thing you know, you spent an entire paycheck to celebrate one day and your entire budget has been thrown off.
And then there's the issue of trying to find kid friendly ways to celebrate. Taking them out for parades is a great idea until the drunk people get too crazy. But what about when you just want to stay home and enjoy a cozy day in your green pajamas?
[Related] Free things you can do as a family, at home.
So to avoid these typical issues, I have assembled some free or cheap family friendly St. Patrick's Day posts.
We'll start with the FREE St. Patrick's Day activities:
St. Patrick's Day Preschool Printable Worksheets
This free printable include numbers and letters, making it both fun for kids AND educational.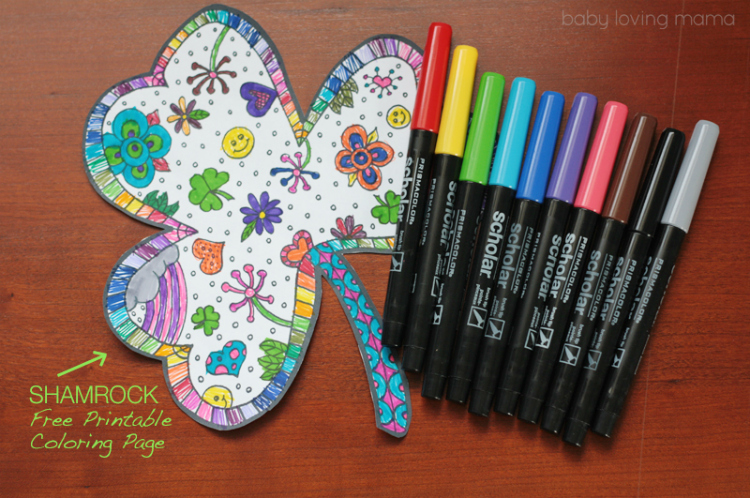 Shamrock Coloring Page Free Printable
Who doesn't LOVE coloring? I know my kids go crazy for it every chance they get! This free printable can keep them quietly entertained while you enjoy a moment of peace.
Free Printable St Patrick Day Worksheets
This printable worksheet book is super cool, take a look and see all the different activities it has to offer! I'm definetly printing this one out for my kindergartener.
Free Printable St. Patrick's Day Lunch Box Jokes
This year St Patrick's day will be on a Sunday (March 17, 2019) so kids won't be in school. Doesn't mean you can't give them a fun festive week leading up to the big day! Print and cut out these lunch box jokes and you can have your kids in stitches all week.
Cheap Activities:
These require hardly any cost at all, and can still be done in the comfort of your own home!
You are the Pot of Gold St. Patrick's Day Printable Tags
With only the cost of a few gold candies, these could be adorable gifts to hand out to your child's classmates.
Sweet and Simple DIY Gift – Rainbow Candy Jar (+ Free Printable Tags).
I can see this rainbow candy jar making a great gift for teachers and bus drivers. Show them some appreciation for hardly any cost.
Family Friendly St. Patrick's Day Crafts
St. Patrick's Day Bucket O' Gold Candy
This blogger used a recycled glass jar to make this cute piece of décor, but you can get a similar look from a globe vase from Dollar Tree. This could also double for a fun activity for kids, have them each make their own jars and fill with whatever you want.
Make This Easy Leprechaun Handprint Craft For St. Patrick's Day
Not only would these keep kids occupied for a while as they decorate and customize each one, but they could be used as a scrapbook. By saving the hands in a box or book somewhere, you can reflect back at how your kid is growing and their hand sizes grow too.
How to Make a Handprint St. Patrick's Day Craft
An activity for kids, that could also double as family gifts. Think about it- put these cute handprints on cards or canvas and deliver to family. And you just gave a thoughtful and personalized gift for little cost to you!
Family Friendly Recipes & Treats
Lime Sherbet Floats (St Patrick's Day Floats)
I'll admit, I have never once thought of doing this. Making a GREEN ice cream float sounds like the highlight moment of any childhood. When you see the two ingredients used to make this float, you'll wonder why you hadn't thought of it sooner too! Especially since it's such a cheap treat.
Of course, if it's too cold to enjoy an ice cream float where you are (hello snow outside) then why not enjoy some GREEN Hot Chocolate?
Saint Patrick White Chocolate Mint Cocoa
This hot chocolate combines all of my favorite things. Peppermint, chocolate, cocoa and easy recipes. Makes me wish I wasn't dairy free right now because I would be enjoying this drink throughout the whole month of March.
Easy Shamrock Lollipops for St. Patrick's Day
While I don't recommend letting kids come near melted sugar (it burns HOT) they can still have a good hand in making these shamrock lollipops. They're made using crushed green apple jolly ranchers. And we all know how much kids like to crush things. Let them do that while you do the rest, and now you have an activity and a treat in one!
I hope you enjoyed this collection of family friendly St. Patrick's Day activities for little to no cost!
What was your favorite activity shown? What is something you like to do with your family on St. Patrick's Day?
Like this post? Pin it for later!